Presence Matters - Sermon from Feb. 23, 2019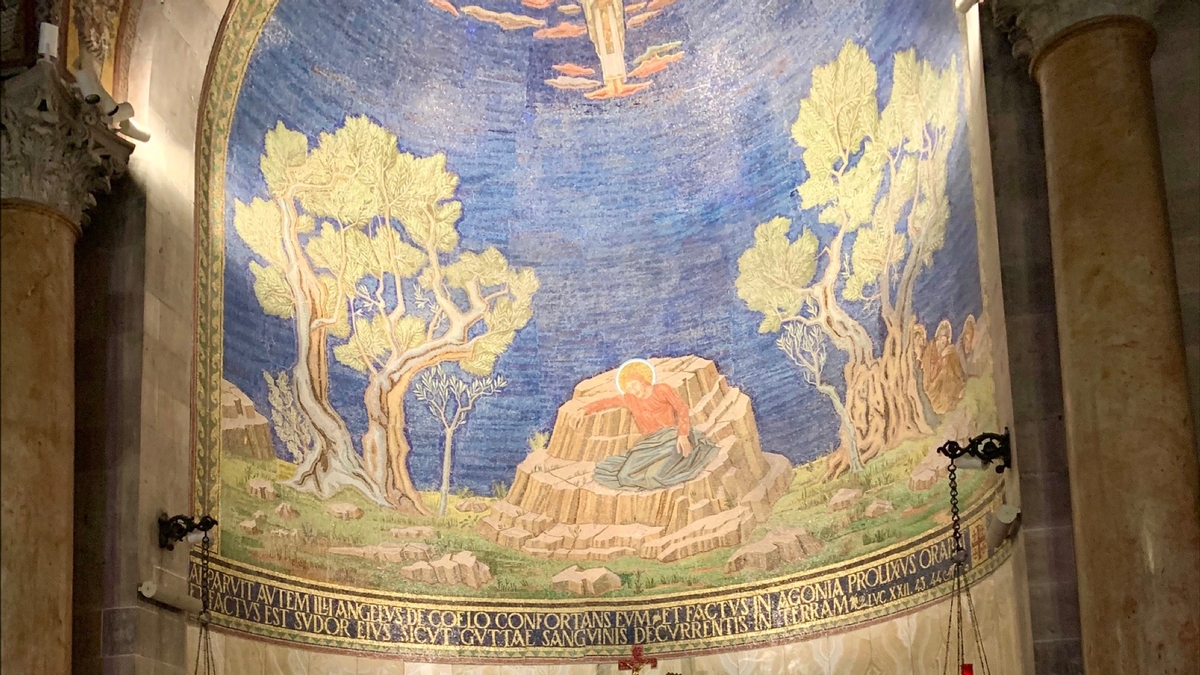 Scripture: Matthew 17:1-9
One of the viral images that has been all over social media because of the movie, A Beautiful Day in the Neighborhood, about Fred Rogers was this one: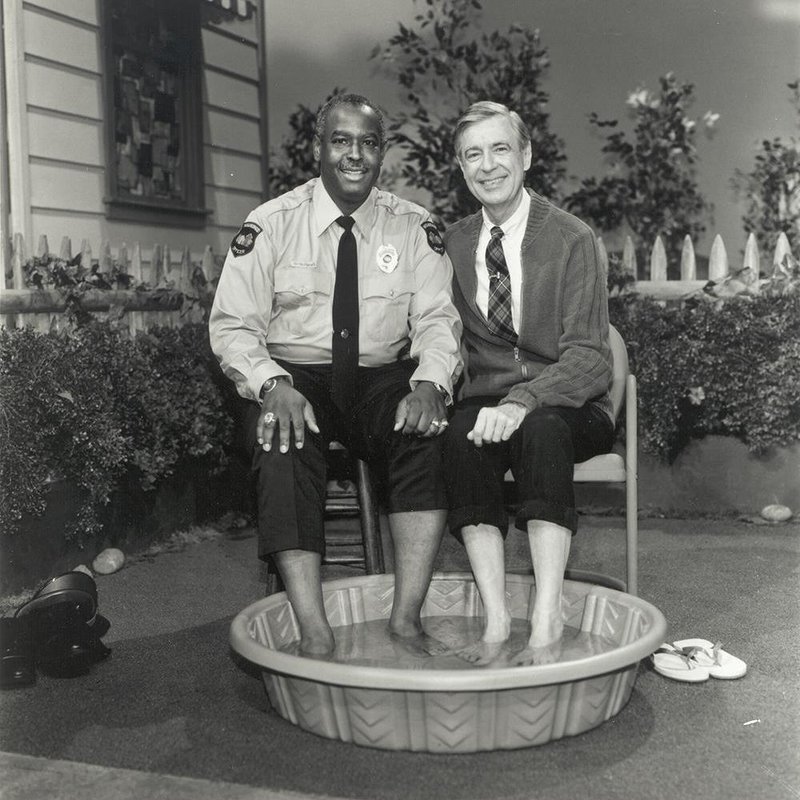 Francois Clemmons was a Broadway performer, singer, and actor who was invited by Fred Rogers on his PBS kids show in 1969 to play the part of a neighborhood police officer. Together, the two, on what was a hot day in the neighborhood, in a show that broadcast to millions of families, made a statement.
Clemmons put it this way -
"He invited me to come over and to rest my feet in the water with him. The icon Fred Rogers not only was showing my brown skin in the tub with his white skin as two friends, but as I was getting out of that tub, he was helping me dry my feet."
This image was more than an image of racial unity and human dignity - it was also an image of proximity, the power of being close.
Clemmons and Rogers were close friends. Clemmons has even said that Fred Rogers was like a surrogate father, protective, supportive, and affirming. Part of that affirmation was touch - reaching out to dry his feet as a sign of respect and love.
This morning, I want us to dwell on this power of presence - the power of proximity.
When you read the Gospel stories and look at who Jesus was, there are many different claims - that he was the Son of God - that he was a human like anybody else - that he could do miraculous amazing things. And part of that is what is always intriguing about Jesus, that he is very much like us and at the same time much more than us.
In our scripture this morning, we witness a moment of transfiguration, when Jesus, on top of the holy mountain, appears transcendent. Aglow. Holy. Almost out of this world.
There, Jesus is so in touch with God, so connected that Moses and Elijah show up, and the three have a bit of a conference call. The reception was really darn good up there.
On one level, this whole passages says more to who Jesus IS not than who he is not. Jesus is not Moses, come back to lead the people out of the desert. Jesus is not Elijah, God's revered prophet, come to drive the wicked out of the land. Jesus is someone more.
Anytime we witness something holy and transcendent, we humans like to bottle it up. Peter has that reaction - he wants to build three huts for Moses, Elijah, and Jesus to dwell on that mountain. Maybe build a new temple. Maybe figure out a way to contain the very presence of God in that place. Maybe even charge an entrance fee at some point.
Wouldn't it be easy to do that? To just have a life where we can just plug into God's presence in the midst of all the chaos and confusion just like plugging in our phone to charge?
Then the voice of God speaks, "This is my Son, the Beloved; with him I am well pleased; listen to him!"
Whatever the Disciples thought about that moment - whatever transcendence they felt - dissipates. Suddenly, they cower in terror, falling down, afraid and overcome. God's voice is terrifying. The mountain might have thundered and shook with the glory of the Alpha and Omega.
And then Jesus - if you pay attention to the scripture again - does something incredible - Jesus reaches out and touches them. Suddenly, this Jesus who was one minute conversing with Moses and Elijah - he is suddenly back among the disciples, among human beings who know what it was like to be afraid and uncertain. Jesus' touch is reassuring, comforting, removing their fear.
Jesus' touch reminds the disciples - I am human like you. I am with you. I am close.
Picking them up off the floor, Jesus and the disciples precede down the mountain. The disciples are full of questions but also, I imagine, reassured. Jesus wasn't staying on that mountain - he wasn't far away from them and their worries and their inadequacies. He was returning back to the world with them. He was present with them - and that mattered.
This past week, I've been really aware of how we are called to be present with each other as a church, as human beings, as followers of Jesus.
- I have listened in and joined in prayer with you for loved ones, for grief, waiting for diagnosis, for the uncertainty of not knowing what lies ahead. I'm grateful you trust me and your elders here in the church with the pain that you share.
- I had the privilege of sharing the stories of suffering from our neighbors - those who are seeking safe, secure places to live that are affordable in our city - to city officials who are trying to figure out how to provide more affordable housing options. I told them stories of Bridge of Hope, Warm Nights, the Day Center, and other ways we are desperately trying to be present with those who may not have anywhere else to go.
- I have recognized how much anxiety there is around this election season, how much anger there is. Maybe you feel that. Maybe you are feeling that.
What do we do with all of that?
In her recent book "After the Good News", Rev. Nancy McDonald Ladd of River Road Unitarian Universalist Church in Bethesda talks about how so many churches get stuck in the euphoria of the mountaintop moments of our lives. We have success, and we want to keep on marching, marching, marching ahead. But, she says, that kind of movement fails if we are not constantly coming back down the moment and sitting, standing, kneeling, listening to, praying with those people who are experiencing their Gethsemane. She calls it the power of proximity. And it is an antidote from being disconnected and lost on the mountaintop - instead of remaining grounded in what is going on in our lives, in our streets, and in our world.
We are called to be close to those who are suffering. We are called to continue to be close to each other. And in doing so, find Jesus there with us.
And I think Jesus invites all of us to rediscover the power of his touch as an antidote in this time of fear and division. Jesus is ready to reach down and touch any of us who are overcome and afraid - any of us who have collapsed, any of us who find ourselves in the shadow of the valley of death, any of us who think God is gonna leave us in our suffering and torment.
After touching us, Jesus then walks with us down that mountain and invites us to carry on his ministry of proximity.
Who is it that God is asking us touch, church?
Who is it that God is asking you to touch?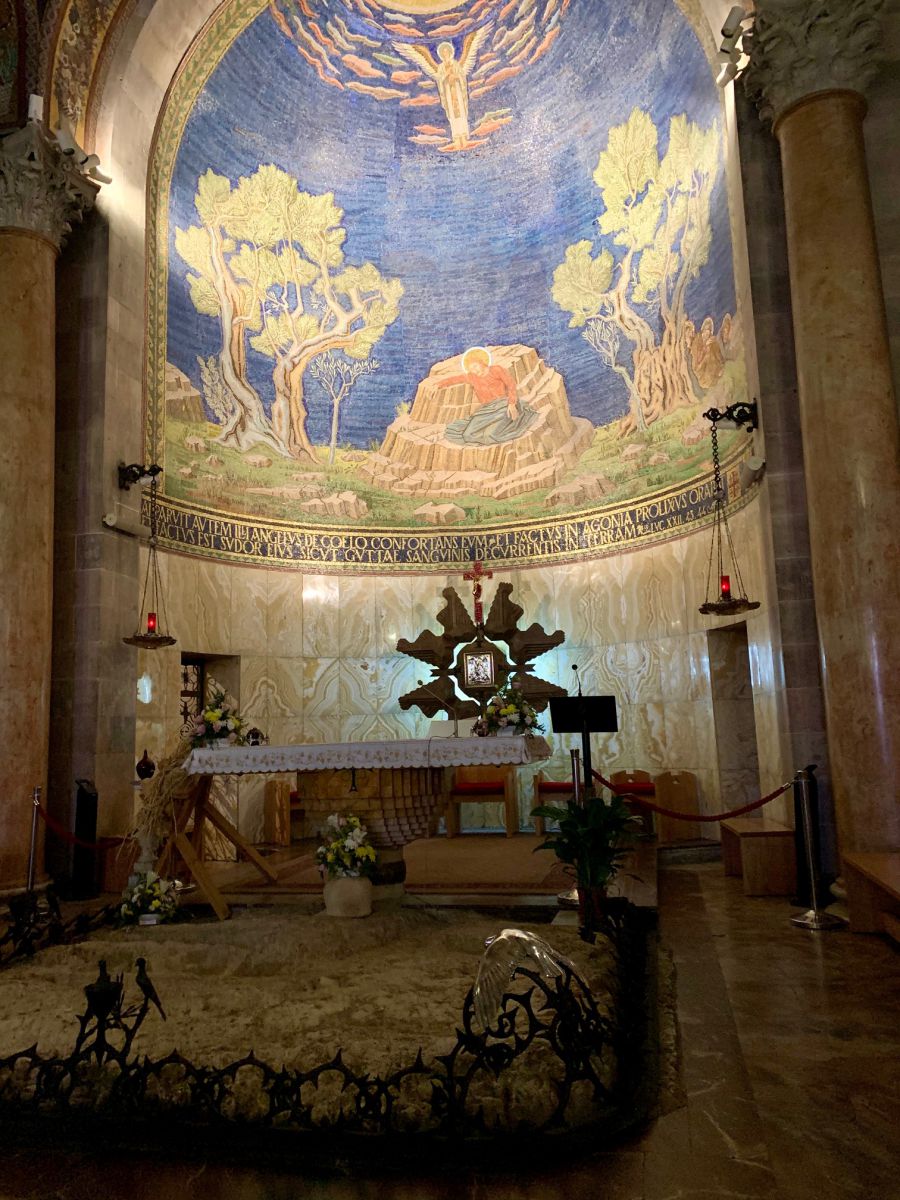 The Garden of Gethsemane was one of many incredible spots on my recent trip to Israel and Palestine that brought me close to the presence of Jesus. There surrounded by thousand year old olive trees, a chapel is built over a rock which is believed to have been the very spot where Jesus, overwhelmed and afraid of what was about to happen to him, knelt down and prayed. He prayed in such a way, in such deep intensity that his sweat fell like releases of blood from his head. He prayed for a change of plans - he prayed for God to take the cup of suffering from him. He prayed for the strength to do what he needed to do, even though it would kill him.
As we sat quietly in that sacred chapel, the altar railing was opened, and we were invited to step closer and kneel down in front of the rock. I reached out my hands and was surprised by how cold the rock was to the touch - maybe I had hoped the warmth of Jesus would linger there after two thousand years, that a little bit of his presence would linger, that I could just sense a bit of his proximity.
In that space, I could - and in this week, in the prayers and pain you shared with me and in snippets of conversations with amazing neighbors, I could sense that Jesus was close.
If you are cowering in fear, if you are worried about what is coming, if you don't know if you have the strength to get through, I want you to place yourself in the shoes of those disciples on that mountaintop. Trust that Jesus knows what it is like to be in your shoes - trust that Jesus has prayed from the depths of his heart just like you. And finally, imagine if you will - or even asking him in prayer - to reach out and touch you.
And finally, after the service is over, when we begin to gather to share some soul food, I hope if you need a hug today. If you need to be embraced today. If you need to weep today. If you just need to be affirmed today - you will receive it. Don't be afraid to ask. Linger here with us. Jesus has drawn close - Jesus is reaching out even now.
Thanks be to God.

(posted 2/23/20)