Hungry for Daily Bread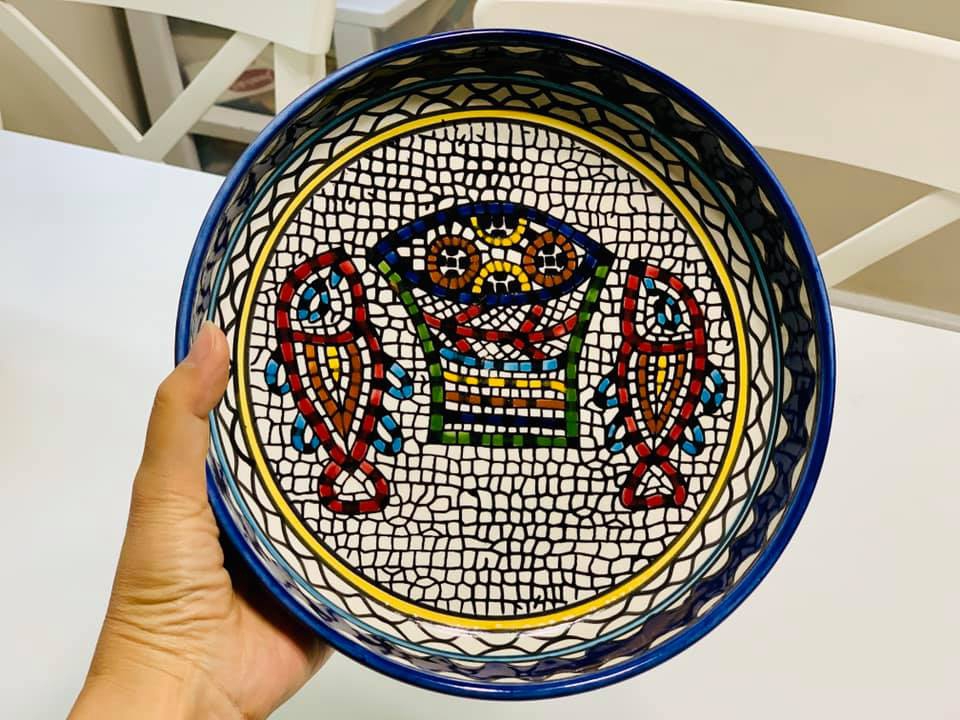 Scripture: John 6:1-14
Back in January, pre-COVID-19, which now seems like such a long time ago, I stood in the Church of the Multiplication by the Sea of Galilee in Israel/Palestine, the very spot where it is believed that Jesus fed more than five thousand people with just a few loaves and fish as we heard in our scripture passage today. On the chapel floor, right in front of the communion table, is a beautiful mosaic - intricately laid tile by tile - which reveals a basket of four loaves of bread and two fish. I have this same pattern on my communion plate and chalice that I purchased there and we use at home for worship.
According to the scripture we just heard, the little boy had five loaves, not 4. The mosaic then, as you stand in that sacred space, invites you to look up, to the communion table, where Jesus might have stood in the midst of worship, fifth loaf in his hands, breaking it and blessing it, before sharing it with the gathered people.
Getting to walk and explore the landscape of Jesus, his disciples, and his people, it was apparent why a miracle story like the one we heard today would have been so popular. It's in all four gospels, Matthew, Mark, Luke, and John. Mark and Matthew, in fact, have it twice. And while area around the Sea of Galilee was fertile countryside, you don't have to travel far to leave that green behind and end up in the dusty, at times desolate, rocky hillsides.
Jesus was distinctly aware of the hunger of his disciples and the community that surrounded him. They were hungry for a lot of things - they were hungry for a leader who could offer them a future free of oppression and violence. They were hungry for spiritual wisdom that gave them meaning and purpose. They were hungry for a sign that God was still acting and listening.
*And they were also just plain hungry for a meal.*
Jesus and his community lived with the day-to-day reality that one storm, one wildfire, one drought, or even one cruel decision by King Herod or Roman imperial authorities could deny the daily bread that his people needed. Life was hard, so when he taught his disciples to pray in Matthew 6, he guided them to ask for daily bread, for the food they needed to get by each day, indicating God was listening to their needs.
That day on the mountainside, as the crowds swarmed after him, Jesus became aware that these people needed bread, and so he fed them - all five thousand plus, keeping in mind that besides the men there were women, children, aunts, uncles, grandparents, second cousins mixed in. No one went home hungry that day.
Our world today is not that different than Jesus' - there are so many hungry people.
Right now, according to a recent Hunger Survey from the Capital Area Food Bank, released before the pandemic, at least 1 in 10 neighbors in the Washington DC region are food insecure, meaning they "lack access to reliable, nutritious food on a regular basis". At least 1/3 of those are children.
Add in a deadly pandemic that has swept through our country, and an estimated additional 250,000 people in just the DC area only have had to seek assistance, making those lines at local pantries and distributions long and slow.
Right now, due to COVID-19, some people still don't know when they will get back to work or have a reliable paycheck again. Experts are worried that evictions will create a new wave of neighbors looking for places to live.
Even this weekend, at least a half a million people have been uprooted from their homes as wildfires break out on the West Coast. When it is safe, many will go back to find ashes.
Right now, friends, people are hungry - hungry for justice, hungry for change, hungry for their daily bread.
So what would Jesus have us do as his disciples?
How does Jesus' miracle of multiplication invite us to respond?
First, we must sit with the idea that God desires to feed us. In other Gospel stories, Jesus hands the bread and fish to his disciples who then share it with the crowd. That's pretty cool - a reminder that we are part of Jesus' distribution network, but in the Gospel of John, Jesus hands out the food himself. **What an image.** Jesus, Emmanuel, God With Us, takes on the presence and care of a cafeteria cook at a local elementary school, a volunteer helping at the Day Center or Community Place Cafe, or even a caring neighbor who picks up a few extra groceries to leave on a doorstep. (Kids, don't ever criticize the lunch lady - she might be Jesus.)
In John, miracles are called signs - they point the way or they tell us about Jesus, and so this miracle reaffirms the good news that we have a Creator who has not abandoned us or left us to misery but suffers alongside and seeks to nourish our bodies for our daily struggle.
Second, God is also concerned with our whole hunger. Later in Chapter 6, Jesus, drawing from this miracle, says to the gathered crowds, "I am the bread of life. Whoever comes to me will never be hungry, and whoever believes in me will never be thirsty." Jesus is able to care for the immediate reality of a people who are hungry for today's meal and also offer them a deeper nourishment that sates their hunger for wholeness and healing. Through Christ, there is food that will sustain his people beyond even this life.
Jesus' mission was always looking beyond just the present - God is always working to bring transformation to a hurting, broken world.
Finally, there are always leftovers in God's reign. At the end of the meal, baskets of bread and fish are returned to Jesus. Through the power of Christ, there is enough and then some to go around. We live in a world where things may seem scarce on the surface - if we will look deeper, we find God is providing more than enough for our needs and our neighbor's needs.
And so if we know there will be enough, some of us might not choose to overload our plates on our first pass down the buffet line.
If we know there will be enough, some of us might invite more of our neighbors to the dinner table.
If we know there will be enough, perhaps we can reimagine how our society will operate, creating a world where no one goes to bed hungry. Can you imagine that?
Bread for the World, a Christian evangelical hunger relief organization, guides many followers of Jesus who are motivated to work toward such a world. According to their website, Christians have so often spent most of their energy in direct action - food kitchens, pantries, and other support to neighbors in need, but Christians are learning to impact policy, the laws and regulations made by our government which shapes our economy. In recent days, Christians have written their representatives and Senators to demand an expansion of food assistance, especially to families with children. Right now, kids in our county can go to local schools for free and pick up breakfast and lunch - no proof income needed, making it so easy to make sure our children have someone in their fridge. It's saving lives and comes out of faithful followers of Jesus lifting their voices and demanding a change.
But even deeper than that, Bread for the World is linking hunger with other policies - like criminal justice reform. When a person in a community is locked up for a non-violent offense, they lose opportunities to provide for their families. It creates a cycle that makes families dependent on assistance, placing stress on the poor in our community. Add on top of that the historic reality that our criminal justice system hurts especially communities of color. If we want to imagine a world without hunger, we also must imagine a world without racism and inequality of all kinds.
What would it look like if our faith was exhibited in these ways - not just through the incredible work we do as a congregation through the Day Center, Community Place Cafe, and winter homeless shelters - but also through a growing voice to our leaders from city to county to state and federal, asking and demanding a community where no child goes to bed hungry? (I'm going to let you sit with that.)
Jesus in a miracle of sharing bread and fish gives us a glimpse of what is possible.
Our presence is needed, just like Jesus, doing the hard work of passing out brown bag lunches, contributing resources that support gift cards going to neighbors in need. Embodying God's love for those who are hungry is a way to show up with Christ. And church, this week, you are going to hear about a special way to help us upgrade our kitchen, long overdue, so we can serve more of our neighbors to reflect Christ's love.
But we are also called like Jesus to point to the world that God desires for us - a world where famines, hurricanes, droughts, and pandemics don't stand a chance against our ability to share, persevere, and flourish.
One of the great apocryphal stories about our church is that when we built this building, the strong amazing women leaders of our church demanded a small kitchen. They rejected the traditional role of women spending a lot of time there, preparing meals for a hungry congregation. Rather, that rejection challenged us to see our kitchen as an extension of our mission, a shared mission. Our kitchen is not a place for one gender - it is a place for all of us who are committed to live to the way of Christ, whether that means cooking pancakes, roasting turkeys, making peanut butter & jelly sandwiches, or just scrubbing dishes.
If it was good enough for Jesus to do kitchen duty, it's good enough for all of us.
We are hungry for our daily bread - may God answer that prayer through our church and through our lives.
Thanks be to God.
(posted 9/21/20)