Rethink Christmas: Check Your Vital Signs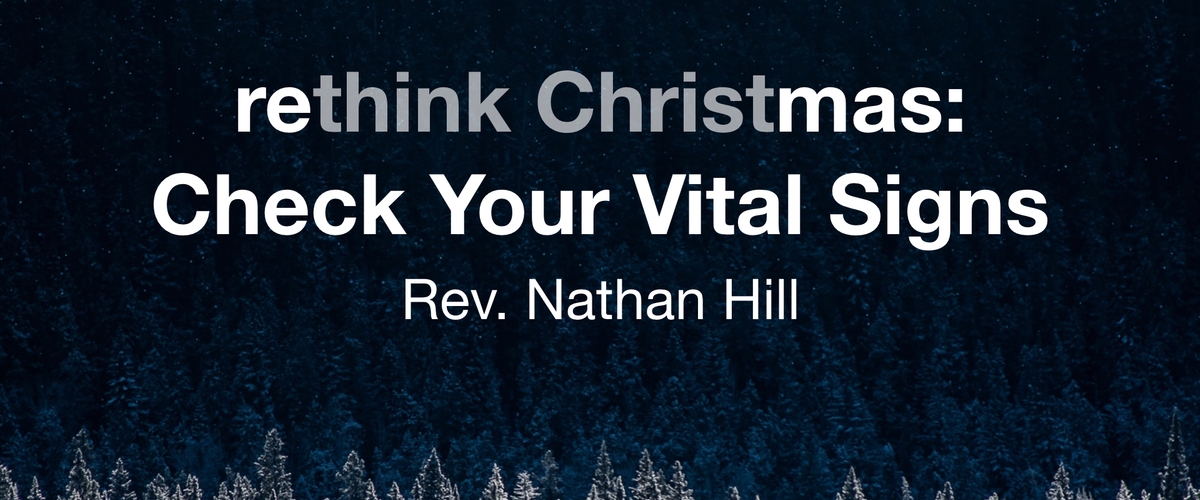 Scripture: Luke 21:25-36
Last Wednesday evening, my family and I made a commitment to kick off our Christmas preparation the right way - with joy and good cheer and eggnog and all that stuff.
I hauled the boxes of Christmas ornaments and decorations up from our basement. We put on a Christmas music playlist. We unboxed our tree and got all the extension cords out. We unwrapped fragile Santas and glass angels and precious mementos with care and hung them from our suddenly colorful, festive tree, full of our memories and expectation for a special Christmas season.
And then we turned on those Christmas lights.
And half the lights didn't turn on. Half the lights had somehow burned out. Our tree looked spectacularly… incomplete, ugly, not quite all there. Half-dead, barely clinging to life. Not the most joyful way to begin the season.
As we begin Advent, getting ready for the coming of Christ, I want to invite us to begin by checking our vital signs.
When we go into the doctor, nurses and doctors take care to check our vital signs. Our temperature. Our pulse. Our respiration rate. Our blood pressure. If the signs are off, it's bad. It means we are not well - it means we have work to do.
Advent is an invitation to get our lives healthy for the coming of our Lord.
- Are our eyes and ears open, or are we distracted and dulled by the digital glow of our smartphones and social media?
- Are we breathing in God's goodness or breathing in the toxicity of politics and selfishness?
- Are we cool and calm and expectant or boiling in anger or fear?
- Are we already hanging by a thread, half-lit in the glow of God, heart slowed, running near empty?
Our theme this Advent is Rethink Christmas. The next few weeks are an opportunity for each of us to check our vital signs in the season. This doesn't mean I am going to ask us to throw out traditions and practices, but instead, look for the ways the pressures of our culture, the mad rush of our expectations, and the brokenness of injustice and wickedness of our world conspire to dim our lights. As we move toward Christmas Eve, you may notice elements of our decorations here in the sanctuary join us in that journey, some of the glitter and glitz moved out of the way until our focus is drawn back to a child in a manger.
In a world where families are still being separated and torn apart, where gun violence snatches away lives, where too many neighbors are given an eviction notice before a Christmas card, God invites us to discover the pulse in our Christmas celebration.
Jesus says to his disciples, "There will be signs in the sun, the moon, and the stars, and on the earth distress among nations confused by the roaring of the sea and the waves."
Jesus is telling his disciples to look for the vital signs of His coming. Listen for the groaning of Creation. Listen to the rumble of the waves and the cries of the oppressed. Witness the trembling of governments and institutions of power before the coming of a mighty God. Check the fainting hearts of the faithful and wicked.
Advent begins with this apocalyptic message, a word that reminds us that, in the words of CS Lewis from the Chronicles of Narnia, our God "is not safe but very very good."
Our culture wants a tame Christmas experience - where we drop off a few coins in a metal pail, where we consume ourselves with broken lights on artificial trees, where we obsess over the perfect gift. But Jesus reminds us that the coming of the Messiah is not a tame experience. It is earth shattering - it is life transforming - it is something worth passing out over - and it is good.
Jesus commands his disciples to be ready - like the camp song, "alive, alert, awake, enthusiastic!" To perhaps be less concerned about the beauty of our Christmas tree and whether a few lights aren't twinkling and more concerned with how our lives are lit for the coming of our Lord.
In fact, Jesus tells his disciples - "when these things begin to take place, stand up and raise your heads, because your redemption is drawing near."
Stand at attention!
Get your heads out of the clouds.
Rise on your tippy toes.
Wave your hands like you don't care.
Raise your voice to the rafters.
Announce yourself to our Glorious Creator.
The coming of God is only a frightening thing for the wicked and unjust - for the people of God, for suffering families, for the despised - the coming of God is good news. Our closing hymn written by Miriam Winters pens it this way:
"O for a world preparing for
God's glorious reign of peace,
Where time and tears will be no more,
And all but love will cease."
When we stand and present ourselves, when we prepare and wait and watch, when we make our lives and our communities ready, we participate in God's coming reign - and Christmas becomes not just about remembering but looking toward that glorious future when our lives are lit with the glow and glory of our Maker. Advent is a season to renew that dream in us - to rethink the Christmas dream to more than presents and family dinners and snowflakes and cookies - but to align with God's dream for all of humanity, where no one is dehumanized or discarded or destroyed. Now, that's a dream that deserves our best vitality as we share it with each other and our neighborhood.
As we rethink Christmas in this spirit, I think about a couple of things we can do in our prep:
1 - Christmas should be fun.
My friend Rev. Paul Tche, our ecumenical officer for the Christian Church (Disciples of Christ), reminds me that many churches turn Christmas into a guilt trip time. We lay on the guilt - we're buying too much or doing too much or not giving enough. I'm sometimes guilty of that as your pastor. Even our theme this Advent can make it sound like something is wrong with your way of celebrating the coming of Jesus - but each of us and our families do it differently. That's okay.
Later in the service, we will hear a special call to action to think about our practices at Christmas-time, our spending, our priorities -
But my friend, Rev. Tche, is right - especially in this moment in history, when there is so much division, when there is such fear, when families are being separated at our border, when refugees are being turned away, when families pick ashes out of their charred homes, when hatred and violence spill into our houses of worship, when the very earth is hurting - maybe the right thing to do is to be together. To love each other. To laugh together. To take care of one another. To have some darn fun.
This season should be about hope, peace, joy, and love - not necessarily another time to remind ourselves of how we fail to measure up to to outside expectations.
Maybe our trees are half-lit because we need some self-care and tenderness.
Maybe our vital signs are low because we need to know we are loved.
Theologian and historian Gary Neal Hansen challenges us especially to utilize that word of Jesus that is translated as "dissipation" in our scripture:
Be on guard so that your hearts are not weighed down with dissipation and drunkenness and the worries of this life, and that day catch you unexpectedly… (Verse 34)
Dissipation means wasteful. This season of preparation is not a time to be wasteful - in our finances or our time or our energy and especially in our compassion for ourselves and each other. Imagine focusing more in these days ahead to make sure you and your family are caring for each other. Imagine focusing more time on telling stories that make you laugh and less on that shopping list. Imagine rethinking Christmas in such a way that this season becomes centered in our connectedness to God and to our church family. Let's be together - and let's have some fun.
2 - Christmas is about showing up.
In a book called Bishops on the Border, a United Methodist, Catholic, Lutheran, and Episcopal bishop recount their experience serving congregations and neighbors along the Arizona/Mexico border. One tells the story about the word - "Presente!" Every week near the border, a number of people of faith gather along a dusty stretch of road, holding white crosses in a solemn display. Then, the names of those children of God, fathers, mothers, husbands, wives, daughters, and sons, are read aloud - those lives who died of dehydration and sickness and violence on their way through the brutal dessert seeking a new life in the United States. Each time a name is read, a white cross is held up, and the holder cries out, "Presente!"
Just as Jesus calls his disciples to "stand up and raise your heads", Christmas is about crying out "Presente!" Being present and awake for our suffering neighbors, for our own weary souls, for our groaning earth, for those crushed and ground beneath the weight of injustice, for those who simply need to know that they are loved. Christmas is a season to show up for God and each other.
Tana Liu-Beers, a lawyer who helps Disciples churches and constituents like our own untangle the complicated, often dehumanizing immigration system of our country, writes that watching the signs is often not even about the seismic events that shape us - but the little things:
"I think perhaps I've been thinking about evil the wrong way. Children ripped from their parents, rubber bullets, lockdown drills in schools, men in power making sweeping policies based on nationalism and racism—the evil seems huge and intractable. In the face of which, the candle lit at the vigil, the research begun, the step taken at the march, the word written, the hand held, the petition signed feel small and insignificant. But that evil is manifest through small things: the order followed, the trigger pulled, the government lawyer drafting the regulation, the person looking the other way. Which is not to say that the evil we are facing now is not systemic, pervasive, or dangerous, for it is certainly all those things. Yet so is the good. The slivers of beauty, the speaking of truth, the works of resistance are good manifest. They are light in the darkness, huge and inexorable."
This season of Advent can seem like a small speck of light in our world. Sometimes, our souls and trees seem half-lit, not good enough against the encroaching darkness. But when we shout "presente!", my light joins with your lights - and this church's light joins with others faith communities and movements - and suddenly, this shabby old Christmas tree that once seemed drab and half-lit beams with the beauty of what God is capable and already doing through each of us.
May we shine our lights! May we savor each other! May we get ready! May we check our vitals and find the love of God sustaining us! Thanks be to God!
(posted 12/4/18)