What shall we bring to praise our God?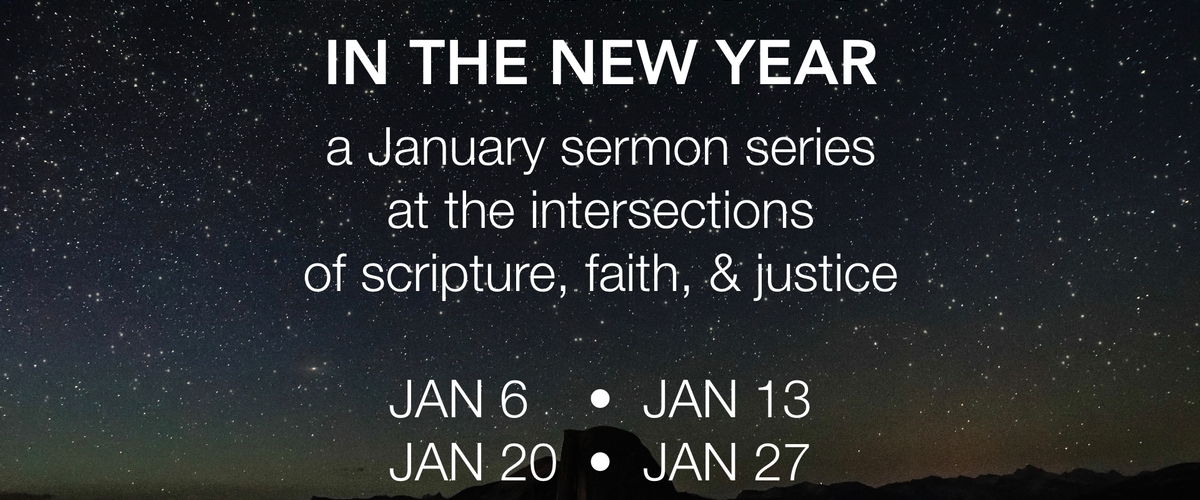 Scripture: Isaiah 60:1-6
By Rev. Nathan Hill
I was part of the Boy Scouts when I was younger, and I loved it - not necessarily for all the merit badges and ranks to climb - but for the chance to be outdoors, sleep under the stars, and enjoy God's creation. During one summer camp, an announcement was made that a volunteer was bringing his telescope out to the big central field that evening. It was a clear night, so we were invited to wander by and take a peak at the glory of the Oklahoma sky.
After dinner, when things had quieted down, a buddy and I wandered by to peek through the lens of a telescope - and for the first time, not just a picture in a science book or a magazine, I saw with my own eyes a glimpse of the planet Saturn, thousands of miles away in space, but brilliant, beautiful, celestial body. It was so cool. Those few minutes left me in awe - aware of how awesome Creation is but also how small we are.
And then, my curiosity getting the best of me, I asked the volunteer, "What does a star look like up close?"
He paused and said, "Well, it looks like a star. Bright light of burning gas. Like the sun, duh." (And he did show me one - and it was a let down.)
Today, I asked our liturgical arts team to make sure the Christ candle remained out as we draw Christmas to a close and celebrate this Epiphany Sunday, where we journey with the Magi, the three wise men, who followed a bright light, a gleaming star, to lay gifts and worship the child Jesus.
It's also a New Year for us - a chance to take stock of our lives, assess where we have been, examine the challenges we will face, give thanks for the blessings that flowed for us in the past year, and begin our steps to become who God is calling us to be.
A time to look, maybe through a telescope or maybe with our lives, for that bright shining star in our lives, leading us to the manger and to God's presence.
Think about all that is changing in our world:
- A new set of leaders on Capitol Hill were sworn in, promising to bring change to our lives and our broken political system.
- Some of us are saying goodbye to old jobs and searching for or beginning a new one.
- Many of us are prepared to leave behind relationships that bore no fruit and look with expectation for friendships that we have yet to imagine.
- Others among our church are walking in grief and hope in this New Year that our tears might slow and the pain dull just a little.
- A few of you are applying for college or programs to help make 2019 a year of transformation and learning and growth.
- And even for our church, in a few weeks, we'll gather for our planning retreat to pray and dream together on where God is leading us.

And so we have this opportunity on this Epiphany Sunday, in this New Year, to look for that guiding star. Through scripture. Through our praise and worship. Through our prayer. Through our community. Even through a telescope perhaps. To look for God leading us.
When the Magi, sometimes we affectionately call them the Three Wise Men - but we don't know if they were all men or if there were three or fifty, when they saw the star in the sky, they heralded as a sign of change coming to their world. A King of Jews would be born, and these astrologers set out to find this King and pay him the honor he was due. Now, it was challenging to find Jesus, because Bethlehem was a small remote village. Like, there was nothing there - probably not even a gas station. It wasn't on any Google maps. (There may have been no room at the inn, because they didn't have one.) And through King Herod and his assistants, they discovered all of that for good reason - this child was born into a time of change and danger of his own, threatened by world powers, hidden away in a remote village where it might have been safe.
The Gospel of Matthew says, guided by the scribes, they head to Bethlehem, "And having come into the house and they saw the child with Mary his mother, and having fallen down they worshipped him, and having opened their treasures presented to him gifts, gold, frankincense, and myrrh."
Their response to the end of this journey - and the beginning of the journey home - was to worship the King, give him the full glory he deserved, to recognize the light in his presence. These Magi were likely astrologers, which meant they looked to the stars and heavens for signs of what was unfolding on earth, but they didn't worship the star that brought them to Christ - they worshipped the child, God embodied right there in front of them.
The prophet Isaiah in our scripture challenges us to recognize the light here and now in our lives:
Arise, shine; for your light has come, and the glory of the Lord has risen upon you.
This, the prophet seems to suggest, is divine light. A peculiar light. It may not be the light of a bright burning ball of gas hundreds of thousands of miles or more away from us. It may not even be the light of a bright room or a roaring fireplace or a hospital surgery spotlight. Author David Schlafer, suggests that this light might be a little subtle, "like the imperceptible dawning of the morning sun, like the slowly building brightness of a kindled fire." Maybe the light was more like a pinprick of flame in the night's sky, beckoning us to gaze up and seek after it.
This light, this glory of God, points to a world that is beyond our dreams, hard sometimes to imagine.
For the prophet Isaiah and the people of Zion, Jerusalem was a city wracked by war, decimated by violence and division, a community of people have been carried off and spread far and wide across the earth. (Most of that remains true to this day.) It is hard to imagine a turn of fortune quite like what the prophet Isaiah is speaking, but his vision should be that unsettling.
Imagine the ruined stones of their beloved city rebuilt, the gates flung wide without fear of neighbor but with welcome to the stranger, the riches and treasures of the world brought to its doorsteps, the mighty rulers of the earth coming to pay tribute. That is a radical plot twist to history at that point for Jewish people, a people who had suffered immeasurable darkness.
Just as radical a plot twist as finding a King in a podunk village called Bethlehem.
Isaiah overflows with this kind of imagery of what is possible through God's light and God's glory - not just for people - but for the entire land. For neighbors. For those who have been lost and estranged from their homeland. For those searching for hope. For those who too often have been left on the outside looking in. For those who are grieving. For those who have been victimized. For those who have had to cross war zones and climb walls and seek refuge in pursuit of a new life.
So, as we begin this year, each seeking out God's light for us, trying to strain our eyes through telescope lens of prayer for what God's grand imagination might be for our messed up world and broken lives, we are invited to think about what we will bring, just like the Magi, as we stumble along this journey to discover God's presence all around.
In both passages, in the Gospel of Mathew and in Isaiah, we are invited to think about the gifts we will bring to God as we enter into God's glory.
Both scriptures speak about gold, frankincense, and myrrh - symbols of wealth and fragrance - gifts fit for a King. Gifts worthy to celebrate. Gifts worthy to lavish upon One who might change our misfortune and bring light to our darkened world.
But what will we bring as we embark on this journey and this new year, looking for God's glory all around?
What will we bring to praise our God?
What is it of our lives that we can offer God, especially if we do not have a ready supply of gold, frankincense, and myrrh to offer, that might be worthy?
Of course, you will have to answer that yourself, but for me, my hope and my plan is to bring the best of who I am into the work we do here as church - welcoming guests and neighbors and inviting them to know God's light-giving love, working hard to be the best kind of parent and co-worker and friend I can be to others, recommitting to the work of justice for those in this neighborhood and world can experience God's light.
I can rededicate my life to the creative work of God in this New Year, to the grand story of the One we call Christ who has touched my life, to the movement of the Spirit who seeks to set the world fully radiant and aglow in the glory of God, so that there are no hungry, no hurting, no refugees, no violence, no war, no injustice, and especially no walls.
What is it that God has already given you, blessed you with, that you might give back in this New Year?
What is your gold, frankincense, and myrhh that you will bring to proclaim the praise of the Lord?
The funny thing that happened back at that Boy Scout camp was that day, I remember deciding I wanted to be an astronomer. I wanted to study the stars and planets and understand outer space. But God had a different journey for me - and led me by a different star to the grander light of the One we call Jesus the Christ, Savior, Lord, Messiah. Maybe God is leading you to discover anew that divine light, shining brightly upon you, in this new year?
Hear the good news - "Arise, shine; for your light has come." Thanks be to God.
(posted 1/11/19)