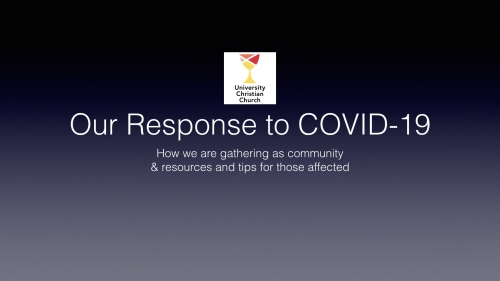 Our Response to COVID-19
University Christian Church is standing with our neighbors and working with city, county, state, and federal leaders to do our part to contain the spread of COVID-19 and save lives. This is part of our call to follow Jesus Christ and love our neighbors as ourselves. You can find our full statement on our response as well as resources and information to guide you and your family at our new COVID-19 Information page.
We continue to recommend to follow all CDC guidelines and encourage every church member who is able to get vaccinated, wear masks (especially indoors and crowded places), and utilize social distancing as much as possible.
For worship, we are currently asking in-person attendees to wear masks. Temperature checks are being taken upon entrance into our welcome space. If you are experiencing symptoms or were exposed to someone with symptoms, please stay home and worship virtually.
(posted March 16, 2020)